Silencers for DEUTZ, VM and other brands
Costruzione Ricambi Macchine Industriali is specialized in the production of industrial silencers since 1968. We produce silencers for exhaust systems of diesel engines, marine engines, earth-moving machines and many other applications.
SILENZIATORI PER MOTORI DEUTZ E VM
Part of our silencer production focuses on the silencers for VM, Deutz, AIFO and other brands. We manufacture silencers for Deutz FL 413F, FL 912 engines, silencers with side sleeves and slightly inclined radial stubs (see catalogue).
MUFFLERS AND SILENCERS FOR BITELLI, IVECO, DEUTZ, VM AND OTHER BRANDS ENGINES
We make mufflers and joints for the following brands:
- BITELLI: Silencers and joints
-VM Motori: Serie 1052 1053-1054-1056-195/298 with built-in manifold 102/103/104 su 295/395SV Serie 1.330 ecc.
- IVECO AIFO: Tipo CO03 - I 8061 - I (on request we build other types of mufflers)
- DEUTZ: SERIE FL912 – 413 L – 413 F with built-in manifold
- VOLVO: TIPO TDI 120 GG – TID 120 FG
- HICOMA
- DONALDSON
- ISOTTA FRASCHINI
Contacts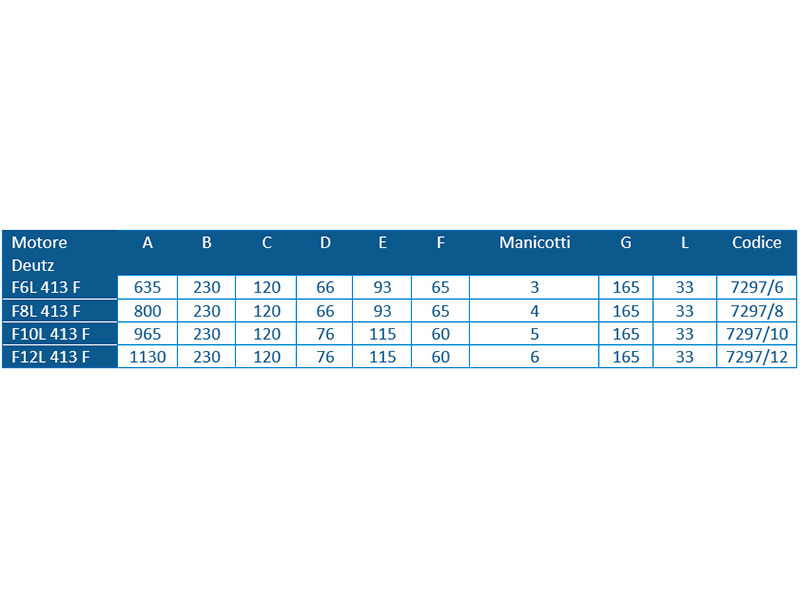 Guaranteed
delivery and professionalism
Respect for the customer is fundamental for our company: for this reason we guarantee professionalism in the performance of our work and collaboration to create a customized product based on customer needs. We have no billing limit.
Contact