Bellows dismantling joints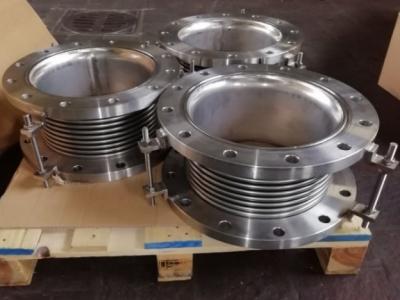 Costruzione Ricambi Macchine Industriali designs and manufactures bellows dismantling joints. This type of flexible joints allows, thanks to the help of tie rods, to easily compress and disassemble the joint so that you can then replace the adjacent component if necessary (valves).
We design and build these components according to the different diameters and operating conditions.
The tie rods of the dismantling joints are sized to axially compress / stretch the bellows during the disassembly phase but not to withstand the bottom thrust of the fluid conveyed which, when introduced into the pipeline, exerts a certain pressure. The bottom thrust must therefore be absorbed by the two fixed points, suitably sized. If it is not possible to apply fixed points to the line, it will be necessary to size the joint with the tie rods to absorb all the bottom thrust.
It is necessary to loosen the nuts of the dismantling tie rods before putting the system into operation to allow the joint to function correctly and allow it to absorb the movements of the line.
Contacts
Guaranteed
delivery and professionalism
Respect for the customer is fundamental for our company: for this reason we guarantee professionalism in the performance of our work and collaboration to create a customized product based on customer needs. We have no billing limit.
Contact